Author's note:  This is part of a series of posts by on this.  The earlier posts can be found on Facebook here, here, here, and here.  Due to the fact that there are minors featured in the pictures discussed in this post, I have blurred their faces to protect their identities. I will also give credit to the original sources of the photos as well.  Why?  Because I respect things like parental consent and intellectual property.
This year, Saint Paul played host to what were arguably the two most contentious races for City Council the city has seen in a long time.  From negative attack pieces, to lies and innuendo, the races in Wards 2 and 5 at times felt more like House of Cards than a local election.  I am writing these posts about Ward 5 even though the election is over because it is reflective of a pattern of sketchy behavior by candidate Mr. Glass and also discusses behavior that should not be left ignored since it is exploitative of minors.  Ignoring it would set a bad precedent.
After "borrowing" two pictures of kids in earlier pieces, it looks like Mr. Glass and his campaign couldn't find pictures for two final pieces, so expanded their "borrowing" beyond Minnesota sources.
Here are the photos from two additional pieces that the Glass campaign used during the final days of the campaign: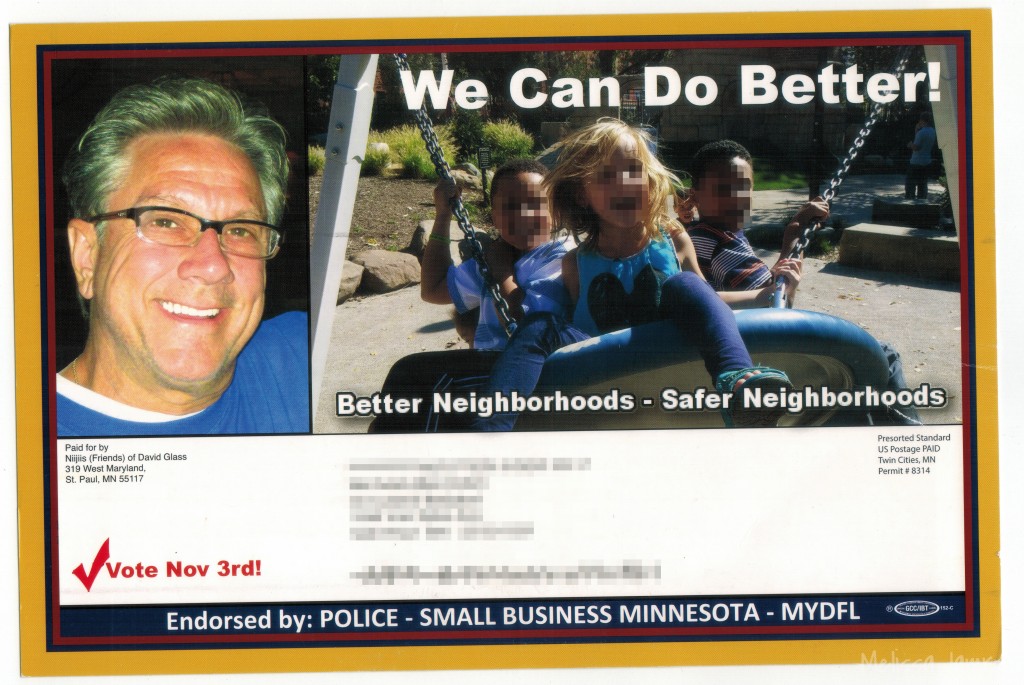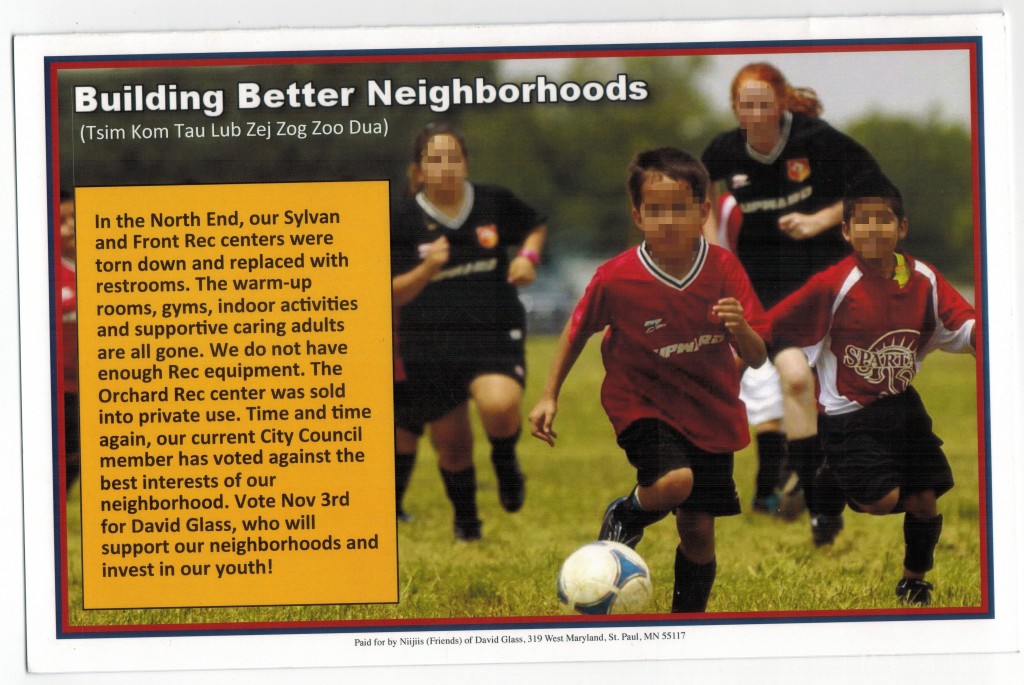 I was able to use Google Images to search the web to find out if these were perhaps stock photos the campaign purchased for use since again, the candidate was not included in them.
The results?
The first picture came from the website for Washington Park in Cincinnati, Ohio, specifically from the section on the Children's Playground. (aside – I like the idea of play ambassadors.  We should consider something like that here.)
The second picture came from a slideshow in the Dallas Daily News article "As Granbury families return to homes, kids find refuge on soccer field".  The tl;dr read summary of the article?  The town of Granbury was hit by an EF4 tornado in May of 2013.  The kids in the foreground of the picture lived in the town, and because of the destruction people were not allowed in their homes so the kids didn't have their soccer gear.  They play in a league that "does what it can to give kids who can't afford to be in city leagues a chance to play."
I again have these basic questions for David Glass and his team to answer about these photos featuring minors that appeared in at least 4 pieces of his campaign literature:
1. Does the candidate have photo releases from the parents of all of the kids pictured?  (I won't ask him to post this proof, because these kids have been exploited enough by Mr. Glass)
2.  Did the candidate secure the rights to use these photos?  All you have to do is share proof of payment or a use agreement from any of the sources (SPPS, Pioneer Press, Cincinnati Center City Development Corporation, or the Dallas Daily News)
My guess, based on earlier statements from Mr. Glass is that the answer to both of the above questions is no because of his statement from Facebook when asked about the photos of Johnson High School students:

Again, my response:
I don't think that the word public means what you think it means.
David Glass and his team seem to think they are above the rules and don't need to follow them, ever.
David Glass seems to think it is a-ok for him or anyone else to use any picture they find on the internet of a minor in any way they see fit. Um. . . .in no way is this acceptable. It also, yet again, violates copyright law.
Mr. Glass, I am happy you didn't win on November 3.  The City of Saint Paul deserves much better than this and you should be ashamed of what you have done with these picture of minors.  I hope the Saint Paul Public Schools take appropriate action against their use, since as I said earlier, to ignore this sets a bad precedence.
I doubt he will ever respond to these questions – or if he does I'd have to imagine he would place blame on some nameless campaign staffer.  But I had to raise these questions.   And for candidates and campaigns – do better and respect the work of creative professionals as well as the privacy of minors and the wishes of their parents.